Hopper Homes: First performance indicators and future
11 min read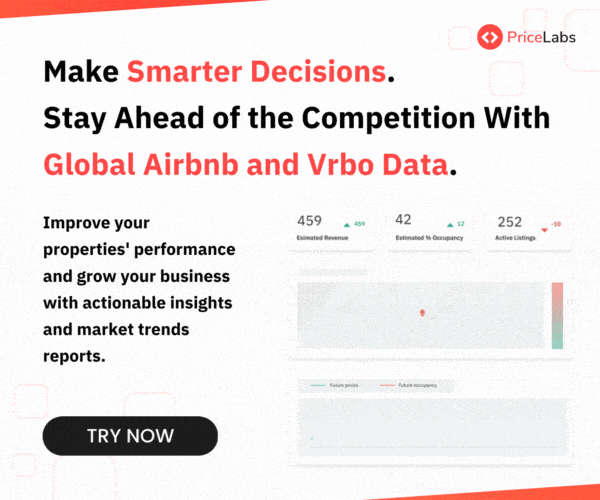 How has Hopper Homes been performing so far? With more than 1.72 million destinations searched and 800,000 vacation rental listings viewed by users, the 8-month-old vacation rental booking platform has been busy. Using slides, data, and statements from a recent webinar conducted with PMS NextPax, we'll see that Hopper Homes wants to position itself as a disruptor taking the demand and supply side of the industry by storm. We'll see why Hopper talks a lot about its "captive users", claiming that 50% of them do not book on other OTAs. We'll also see that it wants to be different with its business model: It does take a commission from property managers or a service fee from guests. Rather, it asks for a discounted net rate on which it adds dynamic markup to maximize its revenues while promising the lowest price on any OTA.
In its storytelling, Hopper Homes also wants to be seen as a white knight that will treat property managers better than Airbnb, Booking, and Vrbo. For example, it gives them access to guests' details and does not mask them (yet?) as Airbnb and Booking do. We'll also see that Hopper is departing from its app-only, Gen Z-focused story to show that it's attracting affluent, older users through partnerships such that with Capital One. Now, companies such as Booking.com and Airbnb have had similar partnerships with airlines and banks for years, yet, interestingly, Hopper does not want to be seen as a one-trick pony regarding demand acquisition. How long until Hopper fully opens a web version that relies on Google ads too?
Hopper Homes's path to fast growth in record time
The launch of Hopper Homes, the short-term rental offer of Hopper (the fastest growing OTA in the US) took only 4 months. When its door officially opened in January 2022, the company could indeed boast "over 2 million global properties, with more properties added daily".
Actually, during the NextPax webinar, we heard that it went even much faster: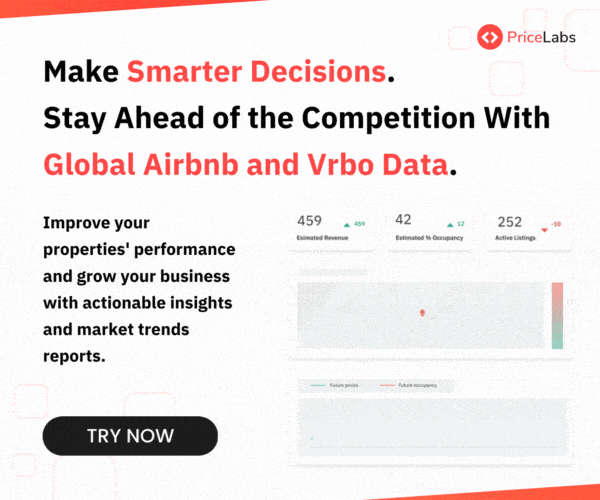 It took them almost three months to build an entire marketplace, the homes marketplace, with just two supply integrations and three engineers.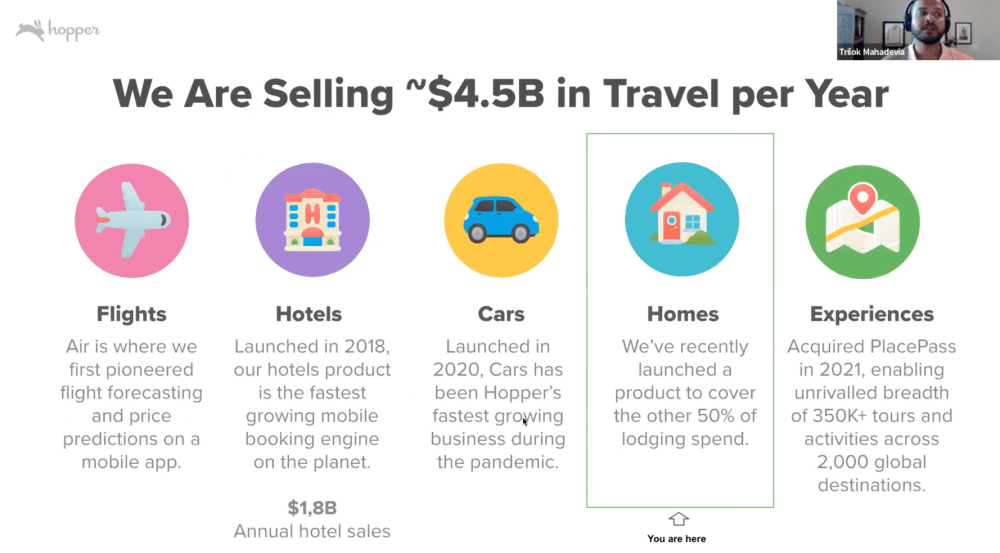 As Susan Ho, Head of Hopper Homes, told Rental Scale-Up at the time, the company wanted to get live as fast as possible to start recording data on how guests interacted with the supply. Gathering and analyzing these data will allow Hopper Homes to refine its app, understand things such as booking and cancellation patterns, and then adapt its much-vaunted FinTech products to the vacation rental industry.
It is also what we heard during the NextPax x Hopper webinar:
You must be wondering, what has this company been doing for so long? We've been collecting data and making and building a really awesome disruptive travel technology. App algorithms process almost trillions of data points, allowing us to make really unique and personalized travel recommendations.
Hopper Homes booking data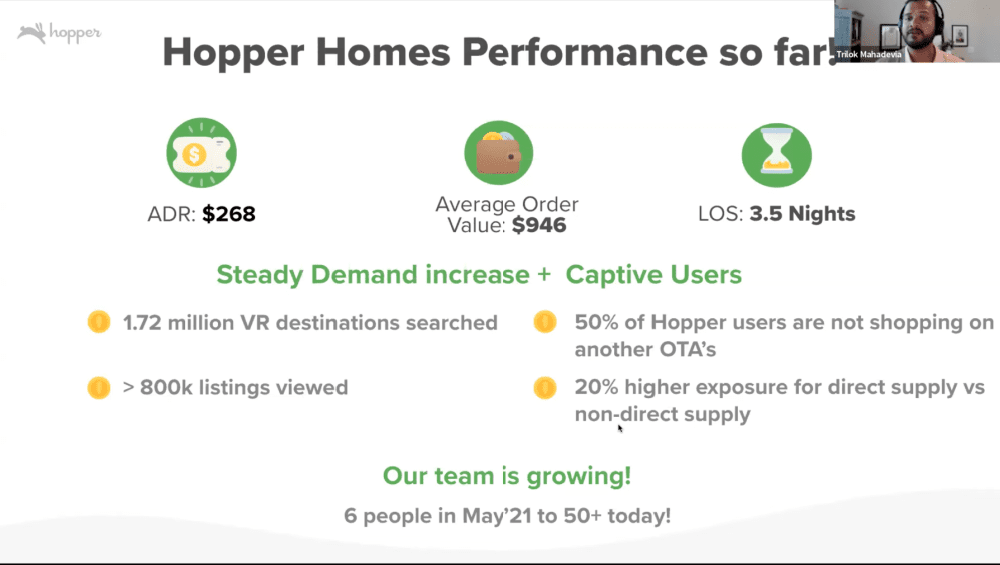 For the moment, Hopper Homes is still in data collection mode, adding more properties and guests weekly. The company says that it has been driving more demand to Hopper Homes and that it's been getting bookings. During the NextPax webinar, here are some booking data shared by the Hopper Homes team:
Average booking value on Hopper Homes:
The ADR looks very high, but it is hard to know how representative these numbers are of Hopper Homes' future performance. Maybe, for the moment, Hopper is for the moment driving traffic and attention mostly to its most expensive properties.
In any case, the point here is to communicate that Hopper Homes can make serious money for property managers who want to join. These numbers are probably also here to counter the preconception that Hopper's Gen Z users would only book cheap places. We'll see below that Hopper is also talking up its Capital One partnership to underline that it has access to affluent travelers too.
During the NextPax webinar, a member of the Hopper Homes team commented that the type of trip getting booked on the platform for the moment is:
2 to 5 people staying in 1 to 3 bedrooms
stays in larger or more expensive vacation rentals were not getting the most bookings
A different business model (no commission but a discounted net rate) and no masking of customer details
Airbnb, Booking, and Vrbo keep about 13% to 17% of the value of a booking, through commissions taken from their hosts and /or service fees taken from their guests. It is not how Hopper Homes works. It relies on a discounted net rate:
A property manager sells on their website a night at $100
Hopper Homes will ask to get that night at a 5 to 10% discount, i.e. at $90 to $95
Then, Hopper Homes adds a markup on top of this price. The amount of the markup changed dynamically to adapt to demand patterns as well as to make sure that the price is lower than on other OTAs.
Hopper Homes guarantees that the price sold will not be below the initial price (here, $100).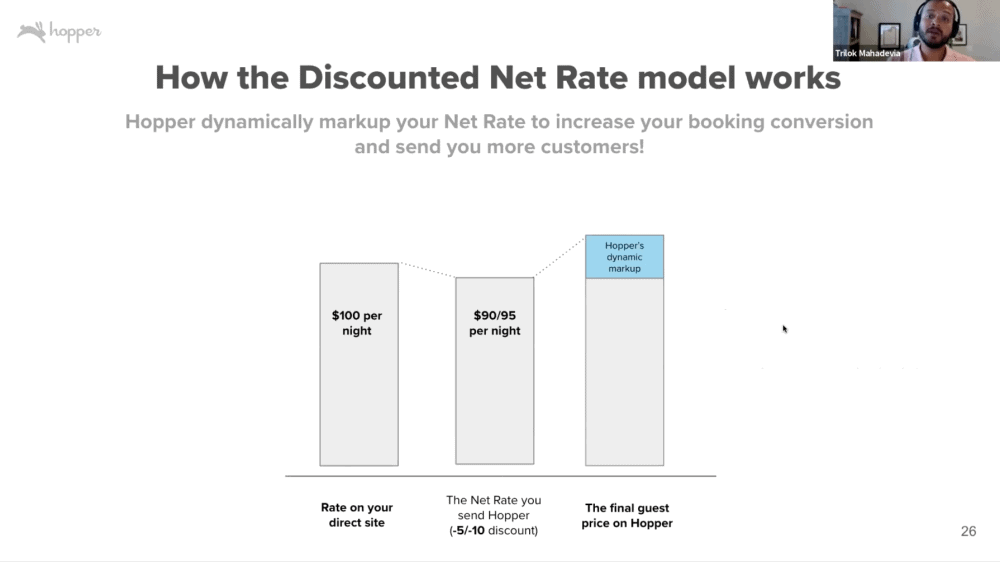 What are some of the benefits of this model claimed by Hopper?
It is cheaper for property managers: Instead of giving 13% to 17% to an OTA, a property manager discounts their price by 5 to 10%
It is cheaper for travelers: Usually, to make up for OTA costs, property managers add a corresponding markup to the price they sell. For instance, if Booking.com takes a 15% commission, then the property manager will add 15% to its rates on Booking.com. In our example at $100 a night, the price to the traveler would be $115. Hopper says that, if it wanted the same 15% margin, the final price to the traveler would be $90 + 15%, i.e. $103.50.
Another way we do things differently is using a net rate model. How this works is we want to offer travelers the most competitive price, right? We do this not by charging your commission, but by asking you to drop your rates by and then applying a dynamic calculated mark up with the aim to really make you win bookings. 
If the $100 is the rate on your direct side, you have an option of choosing 5 to 10% discount. We apply a dynamic markup comparing your prices to other OTAs and making sure we have the best price to the traveler. We assure you that the final price will never be lower than on your direct website.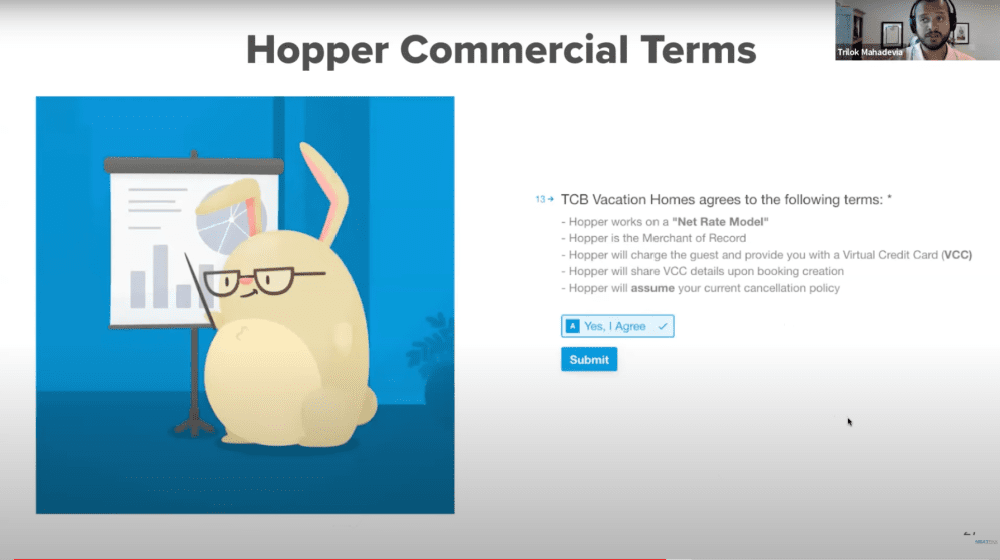 Hopper Homes also says that it does other things differently:
They do not mask guest details, as other OTAs do. So, property managers can communicate directly with guests. (Note that Airbnb did the same at the beginning, yet later things changed.)
Property managers can send their rental agreement and get it signed by guests (unlike on Airbnb and Booking, but like on Vrbo).
Thus, Hopper also says that it will assume a property manager's existing cancellation policy.
Customer acquisition: Hopper says it has more active users than other OTAs, even more than Airbnb
Why "captive users" matter in Hopper Homes' storytelling
As Hopper Homes wants to position itself as something different and disruptive, it pushes the narrative that its user base is unique and intensely loyal.
Here are the reasons to believe that Hopper pushes forward:
50% of Hopper users are not shopping on other OTAs (The data is probably true, now it would be good to know more about the question asked and how replied. For instance, was Airbnb included in this list of OTAs?)
Its app has more monthly active users than any other travel app, even more than Airbnb's
As you will see below, Hopper says its user base is younger and not present on other OTAs, except on Airbnb.
Hopper says it advertises mostly on social media platforms (e.g. TikTok), while companies like Booking.com capture users by buying keywords in Google Search.
Carrot Cash, Hopper's own currency, drives up user loyalty. Users are given some carrot cash when they sign up. When they cancel a travel product (e.g. a flight), they can get 80% of the money back or get the equivalent of 100% of the value in Carrot Cash. They can then use this Carrot Cash to book something else, such as a vacation rental.
The captive user narrative also implies that Hopper's marketing spend does not interfere or compete with that of the property managers: Hopper uses different channels and targets different users, so it is not in the way of a property manager's own marketing efforts (well, unless this property manager is also targeting TikTok users for instance).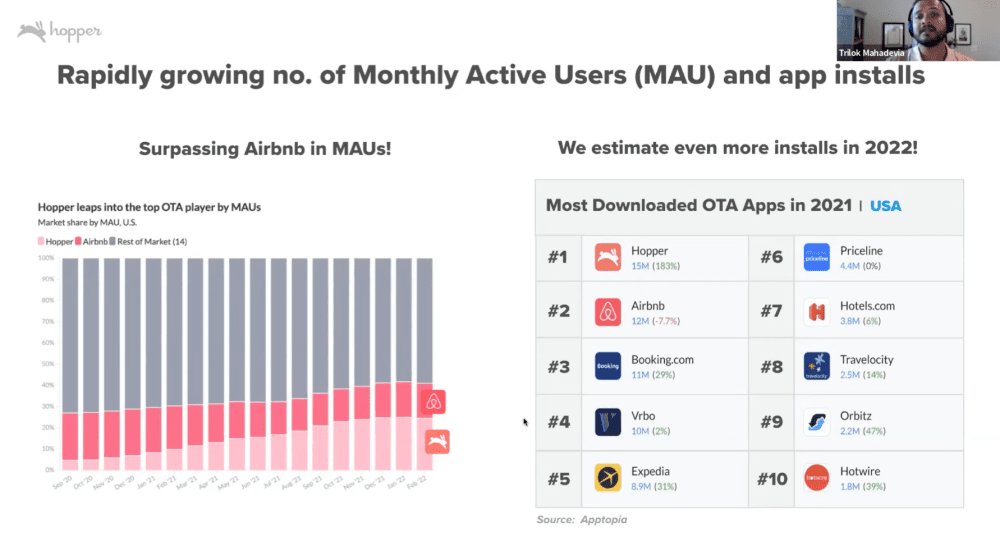 Hopper says that is customer acquisition strategy is different from those of its competitors such as Booking.com, Expedia, and TripAdvisor. Note that Airbnb is omitted from this slide. It could be because Airbnb has way more organic traffic (powered by its branding and TV campaigns) than all the others. Just like Hopper, Airbnb probably does not rely on Paid Search (e.g. Google Adwords) and Meta Search as the others.
The slide below, whose data source is not identified, wants to show that Hopper acquires its customers through free and paid social media (e.g. TikTok ads). It also pays massively to be present in App Stores, in order to entice people to download its app. So, it is spending a lot of money, but on different channels where a younger crowd hangs out.
A quote from the webinar:
We are primarily used by Gen Z and millennial females, with almost 70% of our bookings coming from users under the age of 35.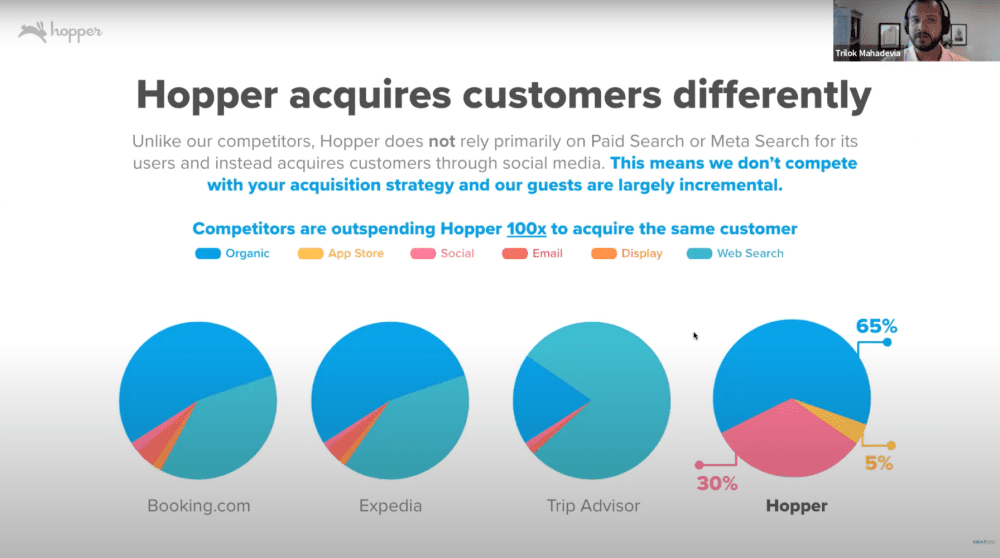 Supply acquisition: From large companies like Evolve to every property manager connected through a PMS or channel manager
For the moment, Hoper Homes is busy proving that it can succeed in the US market. So, it is focusing on getting more supply there it knows to convert well and make up for demand acquisition costs.
Ideal supply: an instant bookable US short-term rental that is an entire home with a kitchen.
You could argue that Hopper is focused on only getting the supply that works best in an OTA:
Hopper is focusing on instantly bookable properties, as they convert more. (higher conversion)
The company also wants whole places, which bring in more money than 1 bedroom in someone else's apartment. (higher ROI)
No mid-term stays (fewer legal headaches and probably higher overall conversion rate if this supply is left aside for the moment)
The presence of a kitchen is the most simple and powerful way to differentiate a short-term rental from another type of accommodation (e.g. a hotel room). It also allows the listing of all kinds of property types, from vacation rental homes to serviced apartments.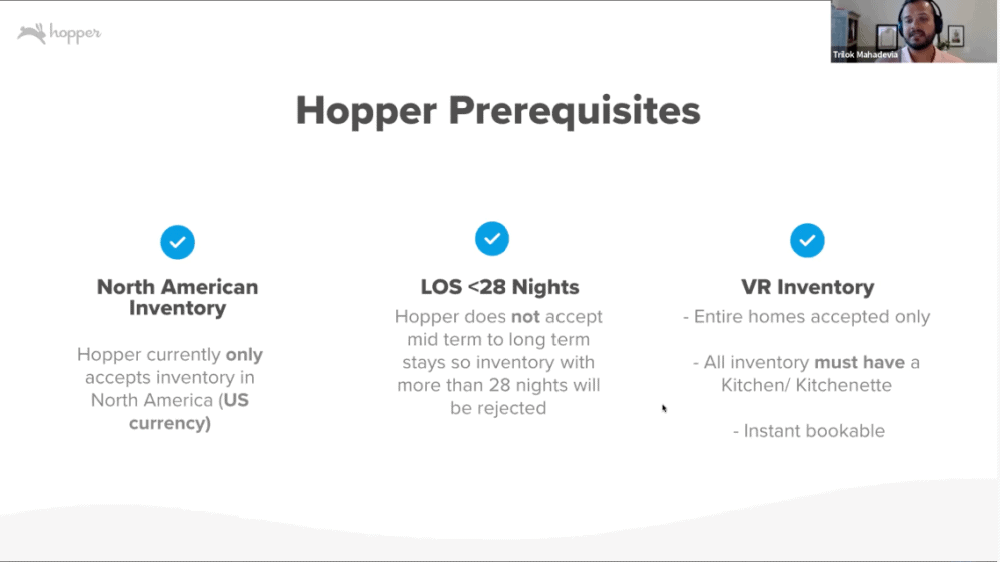 The strategy of Hopper has been to grow its supply fast by going after the biggest and easiest sources to get: large property managers and connected property managers. For example, it just announced that Evolve had become Hopper Homes's largest direct vacation rental supplier:
Hopper, the world's fastest-growing travel app, and Evolve, the fastest-growing vacation rental hospitality company in North America, announced their partnership today. Now, more than 24,000 Evolve vacation homes across more than 750 markets will be available via the Hopper app.  
Evolve joins other large US property management companies with some of their supply available on Hopper Homes, such as RedAwning, VTrips, FrontDesk, SkyRun, Kasa, Casago, and Casiola.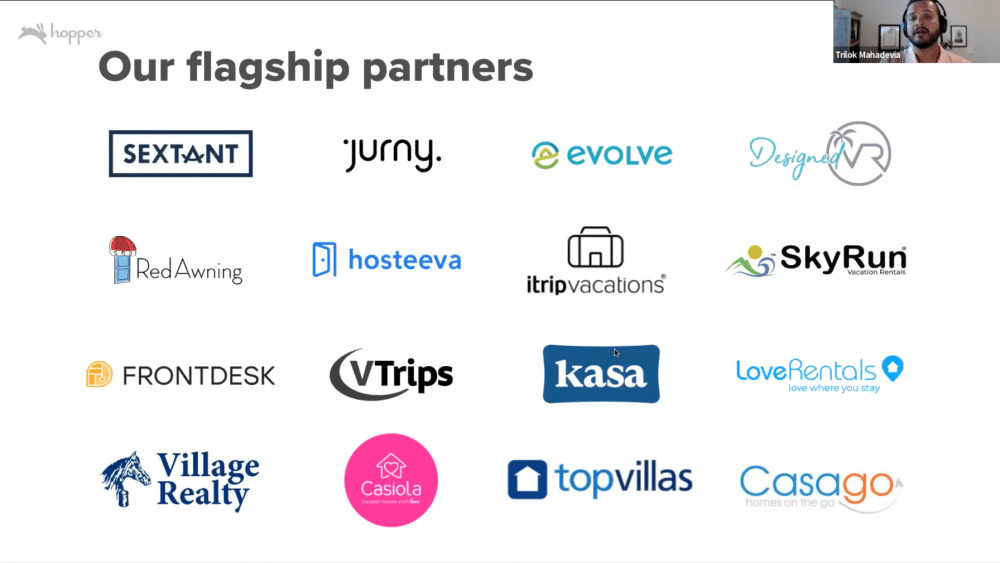 Connected property managers, i.e. property management companies that use a PMS or channel manager to connect to OTAs, are the other source of fast supply growth. Here, the game is to partner with companies such as NextPax and Rentals United. Then, just as with this webinar, the teams hold a meeting in common to convince the users of the software company to open a connection to Hopper. This is much faster than going after property managers one at a time.
Here are the early-mover reasons that Hopper Homes gives to small to medium property managers to join now: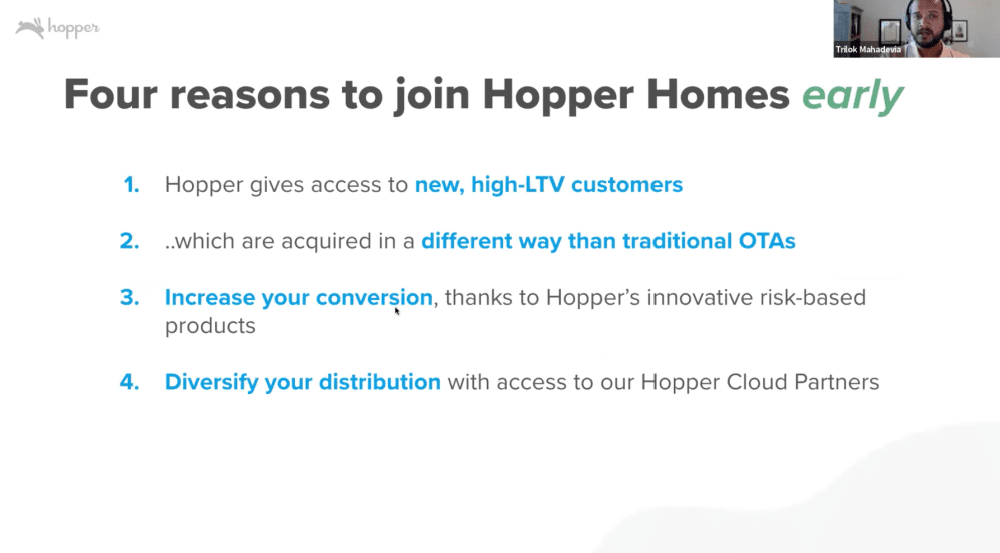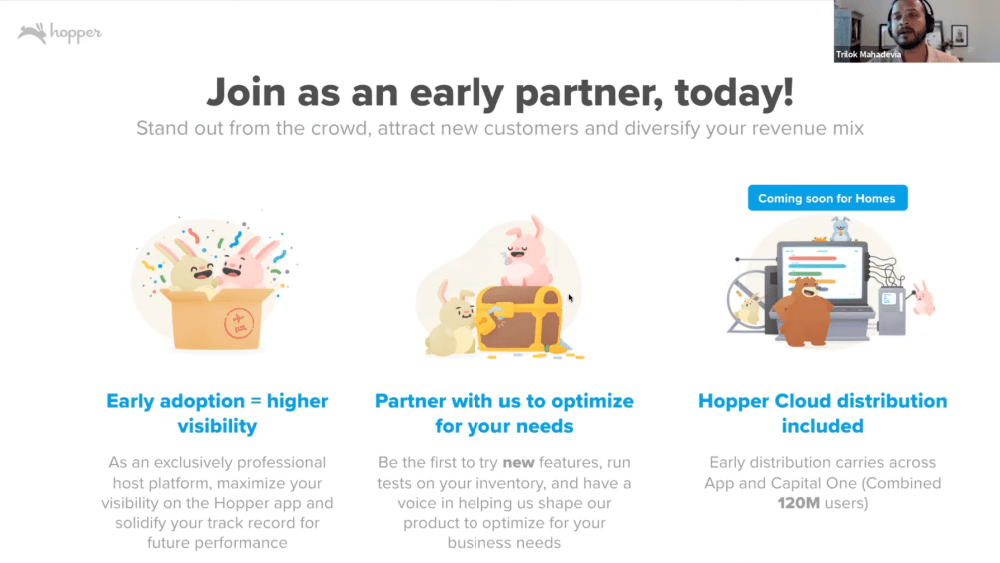 Hopper's ambitions: Surpass fast other OTAs in number of bookings, and not just as a super app for Gen Z and Millenials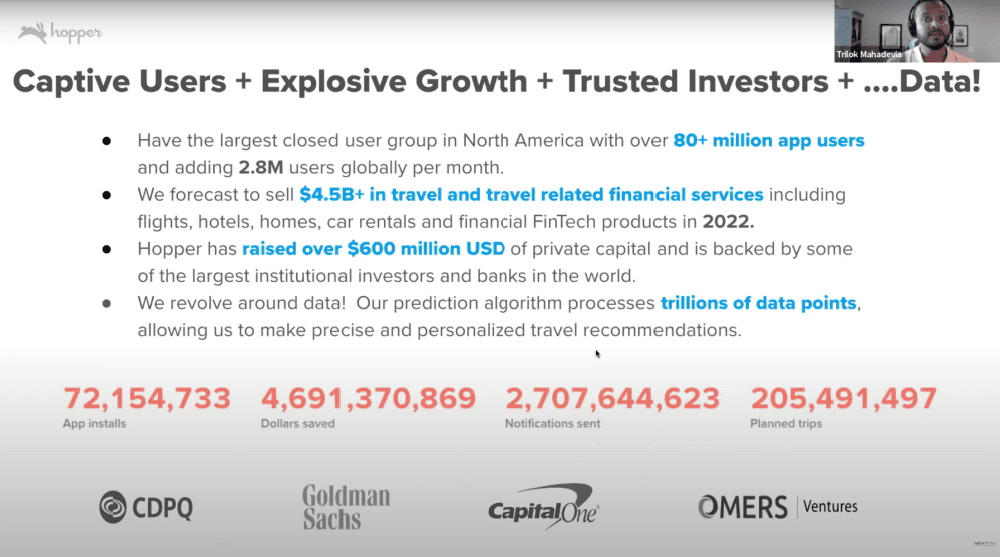 Hopper says that it wants to displace existing OTAs in just a couple of years. To do that, it is not only going aggressively after a new customer segment. It is also counting on its FinTech products, such as its cancel for any reason guarantee, that foster higher conversion on the platform and high financial margins. A big chunk of the money made by Hopper comes from the FinTech product it sells and not from the markups it makes on selling room nights.
Hopper needs more data to see which of its existing FinTech products below can apply to vacation rentals and how to adapt them. For instance, to price a cancel for any reason guarantee for a vacation rental, it needs to gather a lot of data on how often a similar property gets canceled, the propensity of some user types to cancel, and how much is too much when trying to sell such an option.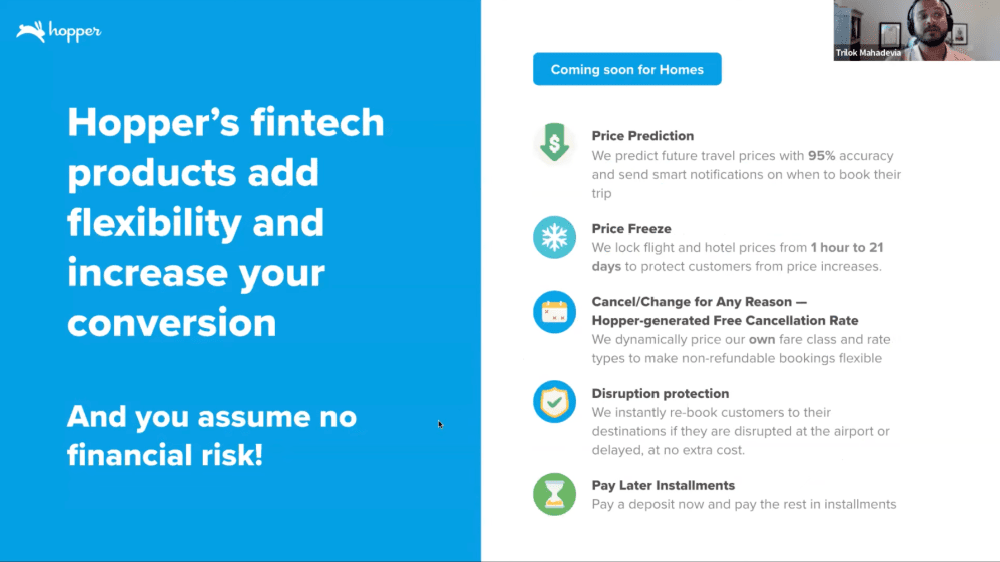 Another striking point from the webinar is that Hopper wants to be known as the best travel app ever, at least outside of Asia. At the same time, the company wants to show that it has a diversified approach, offering a portal (i.e. web and mobile) version of its offer to partners such as Capital One. It allows Hopper to tap into sources of more affluent users.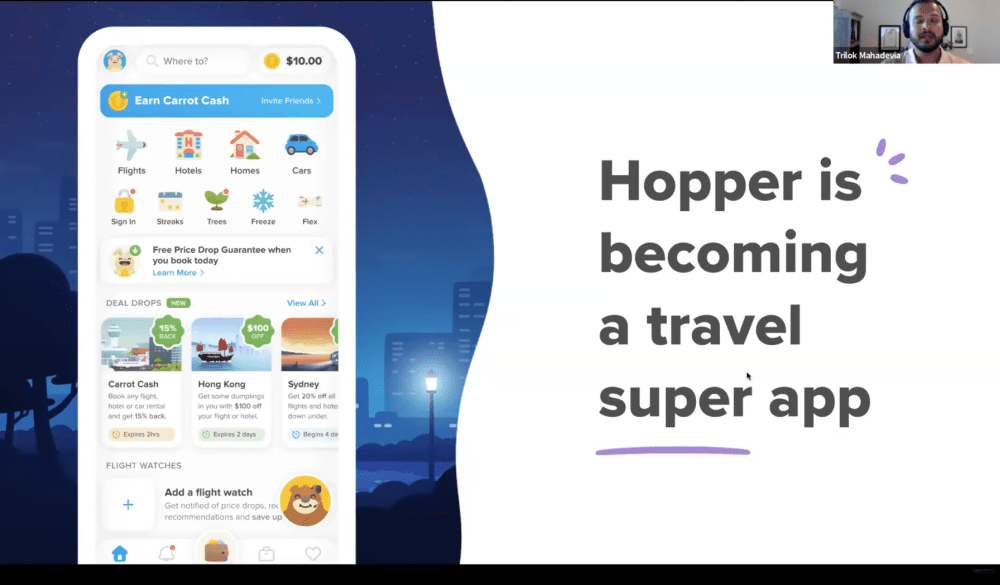 This is why Hopper Homes is also pushing their Capital One partnership. Hopper has built a portal for clients of the Capital One bank to book trips. Thus, vacation rental homes are now accessible to the affluent clients of this financial institution.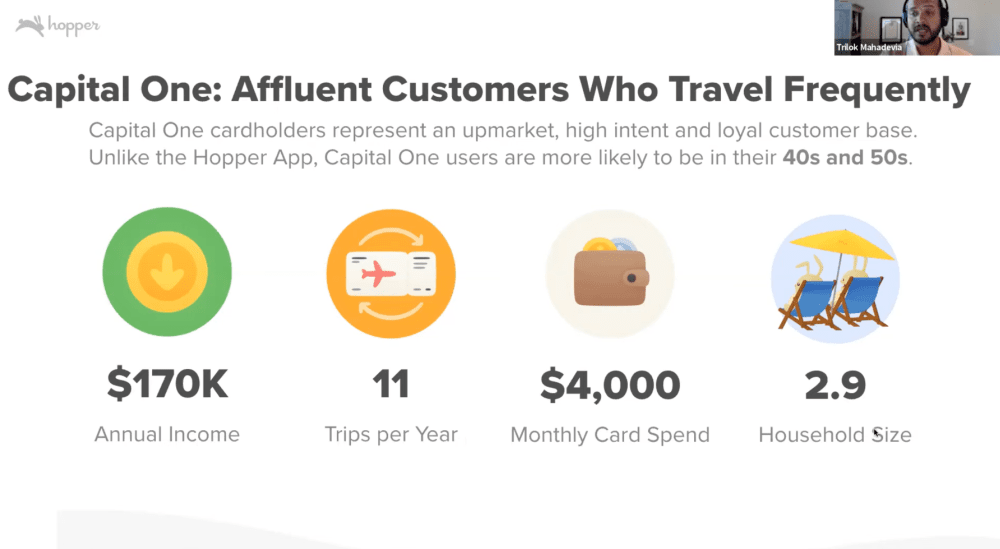 From the webinar, we gather that Hopper wants to quickly open new booking channels, beyond its sole app:
We plan to be one of the top five sellers of travel in 2023, and a big part of that is through these strategic partnerships. You'll see, just from 2020, when there was no portal, 2021, we had portal travel bookings in 2022. It's almost 50% of our bookings, and 2023 expected to increase.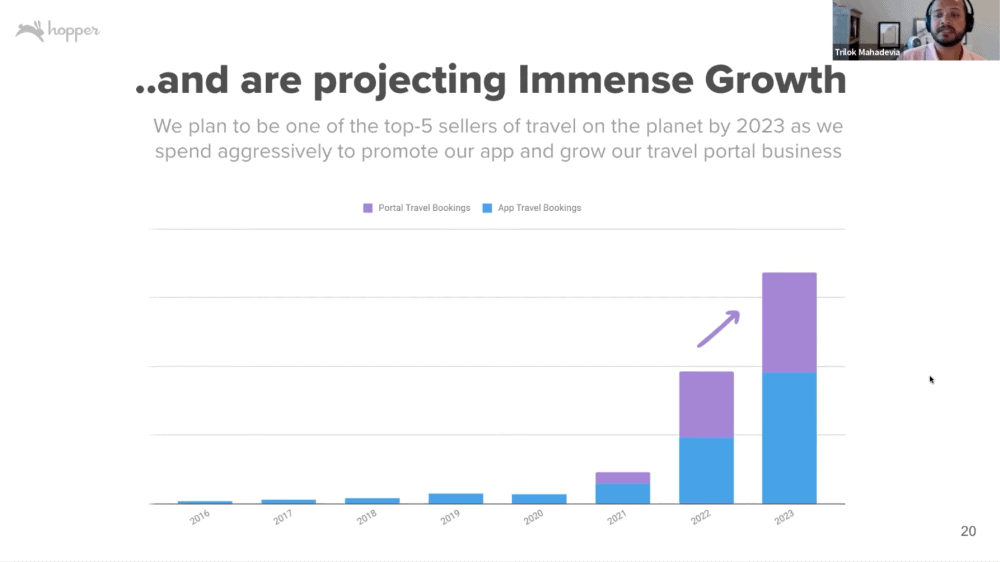 So, Hopper Homes is looking to disrupt vacation rental OTAs. Disruption usually starts by attacking a big market from a different angle. For instance, Airbnb started with bedrooms in private owners' apartments in the US and gradually moved to entire homes, across the world. Booking.com only saw it coming super late, as Airbnb was seen as a peddler of cheap homestays for a long time.
Hopper Homes wants to disrupt with:
a different business model (discounted net rates) whose cost is cheaper to property managers and a final price cheaper for guests
different sources of demand, such as Gen Z while adding more traditional channels such as Capital One customers
higher conversion and financial margins thanks to FinTech products
More captive app users that use the company's own currency, Carrot Cash
In later phases of disruption, a company goes after mainstream users and uses all the traditional sales channels to grow. So, how far are we until Hopper opens its website to bookings?
Will property managers adhere to the discounted net rate model?